Hey, Twitter athletes, it's time to don the old thinking cap. Just because you have a keyboard in front of you and maybe a social beverage at your right elbow, with no other people in the room, DOES NOT mean no one is there with you.
As soon as you hit "Send," you have let thousands of other people right into your head. Right in. Most of those thousands are people you don't know. Many of them do not like you. You are not tweeting your friends. You are Tweeting the world. It's like you have a network television crew standing right beside you. Ready to take the tape of what you just Tweeted and put it on the six o'clock sports. If you wouldn't say it to a TV crew, DO NOT TWEET IT!
I have not been part of the Twitter universe very long. Five months. In that time, I have written about 450 tweets. There have been three times I have keyed in a thought, re-read it, and then decided to delete it. It wasn't appropriate. I felt it could have been taken the wrong way. So I didn't send it. When I keyed it in, I thought it was funny. But, after a moment's thought, decided it might not be.
I must admit, I have reached the point where I find it hilarious when boneheaded athletes step into a pile of it because they aren't smart and savvy enough to think before they tweet. For Pete's sake, there are entire websites devoted to re-tweeting athletes' tweets. And you don't think someone is going to take offence to some of the garbage you tweet?
Earlier this week, triple Olympic gold medalist Stephanie Rice made a tearful apology for a homophobic slur she made on Twitter. After, of course, she lost an endorsement deal with Jaguar. "My comments were thoughtless and careless but I can assure you when I made those comments on Twitter I never intended to offend anybody." What? Are you kidding, Stephanie? That's like saying, "When I jumped out of the boat I had no idea I would get wet." Hey, Stephanie, would you use a homophobic slur in a live television interview? Then why the hell would you do it on Twitter?
Also this week, Tampa Bay Lightning netminder Dan Ellis decided it would be a good idea to whine about his financial challenges on Twitter. Probably not a good idea, Dan, when you are hauling in three mil a year. Dan, would you complain about your salary in a post-game scrum in the dressing room? They why would you do it on Twitter?
Problem is, people think Twitter is informal. You can do it anywhere. Anytime. It reminds me of an incident that occurred in January 1988. Television sports personality Jimmy "The Greek" Snyder was interviewed in a Washington, D.C. restaurant. You can see his comments here.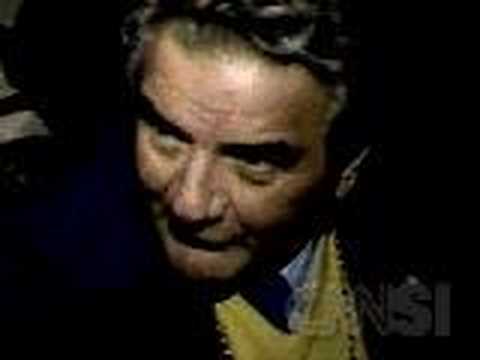 Snyder NEVER should have been interviewed in a restaurant, with alcohol present. I can't imagine an ethical reporter doing it. But, because no one cared enough to put a stop to the interview, Snyder was immediately fired by CBS Sports and, eight years later, he died a broken man.
That's what happens when all the checks and governors are taken off public comments. That's what Twitter does. There is no one standing beside these Twitterpated athletes, suggesting that maybe they should think twice about hitting Send. The athletes have to monitor themselves. And that never ends well.